Ever come across a problem where you Avast antivirus software ends, or, blocks out some key programs on your computer? Its a common problem, so do not fret. Several users of Avast service out there usually have complaints about the antivirus software blocking out other essential software, be it programs, websites and even hardware. Usually, it all starts with pop-up messages or a dialog which says that a certain link or program is dangerous or unsafe and that it carries a potential threat(such as a virus). But you know that there's absolutely nothing 'unsafe' about it, as it is probably a little irregularity that you do not need to worry about. So in this article, we wish to enlighten our users on what an Avast exception list is all about, and how to add our essential programs to this list.

What Are These Exception Lists on Avast?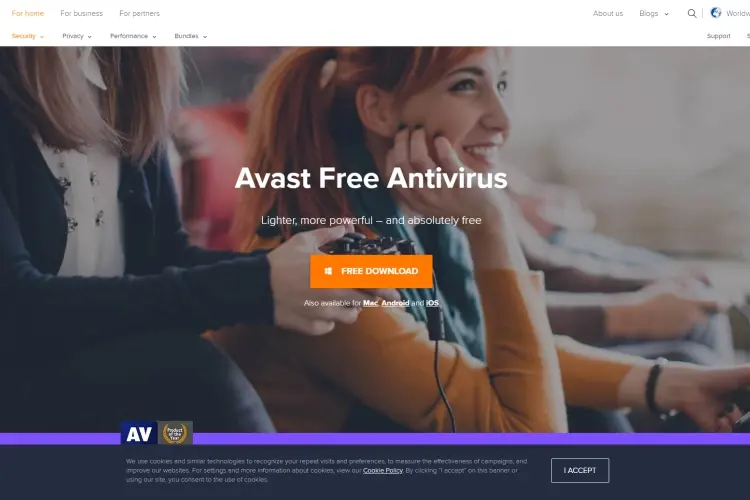 If you want those sites or programs that have been blocked by Avast antivirus software to get unblocked, you simply add them to Avast's whitelist.
Now, Avast Whitelist, also known as the Avast Exception list, is a list where you can add those websites, links, processes, and programs that you trust and know to be safe, which Avast doesn't agree with. This is an option where you can get your hardware unblocked by the use of Avast 'add Exception' option. Sure, Avast firewall has been known to work best in terms of fishing out truly dangerous sites, spam links and unwanted services, lots of times users have reported that Avast blocked out useful important stuff including games, Discord, Visual studio, FileZilla and uTorrent.
One thing that could even make it all worse is when you fully trust a particular application and it is very important to you, and then suddenly, you're locked out of it with no way in due to Avast just getting a bit paranoid.
Well if this occurs again and again, all you need do is place them in Avast Exception or Whitelist, to get them fully unblocked. As expected, at this stage you might be thinking, 'How do I add those programs to my list?'. Keep reading; you're about to find out.
Procedure on How You Can Add Your Programs To The Whitelist
You can add your exceptions to Avast in three distinct ways, depending on your preferred method. These ways include:
1.The Global Exclusion List. You easily prevent your trusted files, programs, folders, or apps from being scanned by the Avast Exclusion list.
2.Global Exclusion List For Special Programs
3.Global Exclusion URLs to prevent them from getting scanned or blocked.
Note that before you make any exceptions to your files, you must have at least verified that the program is in no way unsafe and completely clean. And when Avast blocks any websites or pages it is suspicious of, it normally pops up saying that access to this page has been blocked.
Global Exclusion Lists That Help Prevent Scanning and Blocking Files, Folders, And Programs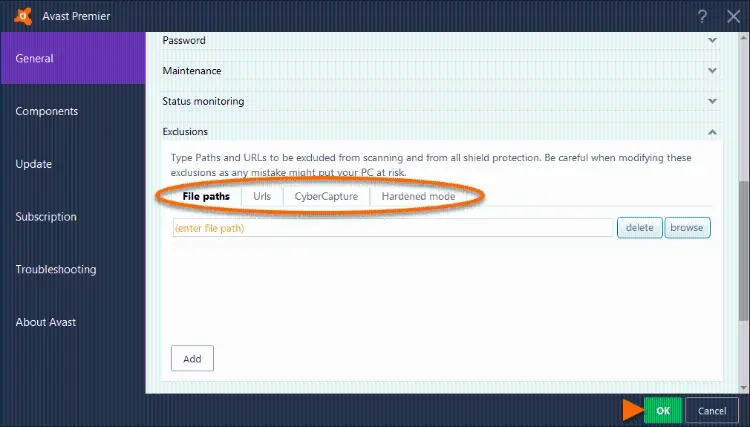 This list is your preferred choice if you want to exclude apps from getting blocked, and also if you want some files to be ignored by the Avast Scan. Domains, websites, URLs and programs are not left out too, as they can all be added to it.
To do this, the following steps are required:
i. Open the Avast antivirus application on your PC or Desktop. Click the Settings logo.
ii. Next, select the lab labeled 'General' and then you'll find a particular option called Exclusions. Select it.
iii. What is required next is to include the path of the program, file or folder to the Exclusion List. Global Avast Exception list makes that option available too.
iv. When these three steps are successfully completed, your trusted programs, apps and sites on your PC will be prevented from getting scanned and blocked by Avast.
Global Exclusion For Programs, Files and Folders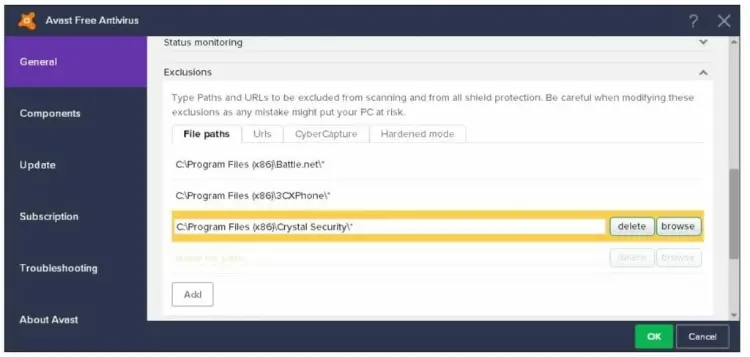 A handy method, if you want to remove a Shield of your choice from Avast. It is also possible to whitelist any shield whether file shield, or that of web, or mail shield, and even games. All you need do is follow the steps outlined below to add any shield to the whitelist.
i. Go to Avast Antivirus and enter its 'Dashboard' section. Select settings.
ii. Look through the available options and click on 'active protection'.
iii. Next, find the appropriate shield name, i.e game, web, file or mail, and choose the appropriate one you wish to add, and then select 'Customize'.
iv. Look for the menu among the exclusions and add up those that you require to be ignored.
v. It is also possible to specify the time frame that you require these exclusions to be applied, such as when you type, read, design, write or execute tasks.
Global Exclusion For Web Pages and URLs; Prevention of Scanning And Subsequent Blocking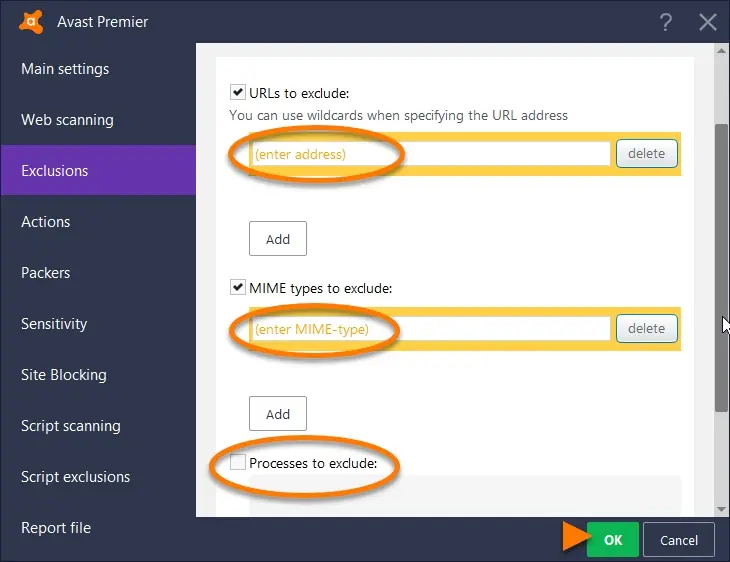 Now if you do not want a particular website access to be blocked, or its been blocked already and you want it unblocked, this is the method to use. Note this too, that any URLs or domain types whatsoever can be added to this list, so it is proper that you ensure too that these sites are tested and trusted. Now here's the process involved for addition to the whitelist:
i. Enter Avast dashboard section and select the 'Settings' option.
ii. Click on the tab labeled 'General'. Then go ahead and search for the option tagged 'Exclusion'.
iii. As soon as that is done, in the tab for URLs, enter the specific sites that you do not want to be disturbed by Avast, and then select the 'OK' button.
iv. If this process is followed, the voila! Your site is already on the whitelist.
How To Give Feedback on False Positive Detections To Avast
You can easily make reports to Avast Customer Service if you detect that a safe, healthy program is picked up and restricted by Avast antivirus. All that is required here is that you clink on the appropriate link which is displayed on every Adobe popup when the unhealthy site or program is blocked. Next, select 'Report program' as false positive.
After that, a form comes up, requiring you to fill in the appropriate information. In the part labeled 'Additional Options', you can paste the link from the antivirus scan. Next, tick the bar saying 'I know what I'm doing'. And select submit.
Avast In-Product Data Form For Reports of False Detection
As an alternative, you may prefer to utilize their official web form to easily report false positive detection.
Types of Exclusion on Avast
The exception lists on the Avast antivirus service are of two distinct types:
· Temporary Exclusion: For this type of file exclusion, the users make use of the usual scanning process. For example, if you wish to make exclusions to any particular file of your choice and then eventually make sure it scans completely or 100% without any problems or delay in scanning, simply follow these steps:
i. Open the Avast Antivirus application on your computer.
ii. Select the 'scan' option which is on the main menu.
iii. Select the 'Exclusions' option.
iv. Next, click on 'Browse' in order to add the folders, disks, USB drives and files to be excluded.
v. Select the 'Add' option.
That's it, you're done. So anytime you wish to Scan, these files are all excluded temporarily for that particular scanning period. Note that all locations of files and folders will be automatically included for the very next time you scan. And if you need the temporary exclusion service all over again, you can always follow the steps that are outlined here. Unless, what you require is to make these exclusions permanent, which is detailed below.
· Permanent Exclusions: As it's semantics would suggest, it means that you create exclusions that will last timelessly and permanently. You just need to follow through on the steps listed below:
i. Open the Avast antivirus application.
ii. Locate the 'Settings' logo.
iii. Next, Select the option labeled 'Antivirus'. You'll see the 'Exclusions' option as you scroll downwards.
iv. Find the appropriate locations of your files/folders etc.
v. Next, make your additions to the exception list.
If you installed Avast plugins such as the Avast Internet Security service and Avast Free Antivirus service, DeepScreen is usually incorporated as part of the software, as well as the 'Hardened Mode Security' service. Now if you require some locations and files to be excluded from being scanned by these services too, then browse these location paths again and click on those files, for every task. The antivirus service may not stop scanning these executable files or applications if you do not select them properly. This is one of the common problems faced whenever Avast exceptions do not function properly. Hence, ensure that the appropriate file locations are added.
Conclusion
So there you have it, the steps to add exceptions on Avast antivirus exclusion list have been described in detail, this article. As always, if you run into any difficulties, you can always make a comment via the comments section below. We'll do our best to facilitate a response as soon as we can, and give you the best tips as we know it. However, we do hope this article was very useful and helped you with regards to how you can add desired exceptions to Avast whitelist.