Your Android device is capable of holding as many applications and browsers as possible, depending on its storage. One of the things you may likely find or want to add is a Lite browser. They are lightweight and less-data consuming. Regardless of how different they are in size and power, their performance is not anywhere below average. It is even a smart choice if you want to consume less amount of RAM on your Android Smartphone.

Generally, Lite browsers are supported by Android phones, but they are various types of them. This article is a review of the 12 top Lite Browsers for Android mobile. Each of them has unique features and characteristics. Let's discuss how effective they are, and the internal specs as well as user-interface. In the end, you should have already chosen what to install on your Android Smartphone.
The 12 Best Lite Browsers for Android Mobile
Here are the top 12 Lite weight browsers you'll probably enjoy.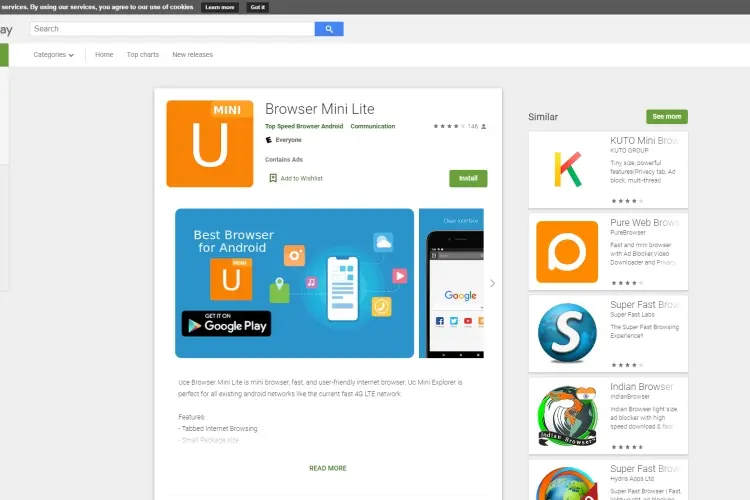 Uce Browser Mini Lite is an ultra-fast and top-performance lite browser, which is licensed under Mozilla Public License. This browser is one of the best choices to have on your Android mobile, as it is user-friendly and smart. It can run on all kinds of networks, including 4G networks (high-speed).
There are many features on this popular browser, and they include - Tabbed Internet Browsing, Fast Start Times, Advanced Settings, Full-Screen Mode, Homepage, Bookmarks, etc. Currently, it has a size of 5.45 MB. There are over 50,000 downloads of this Lite browser on Google Play Store since its release in February.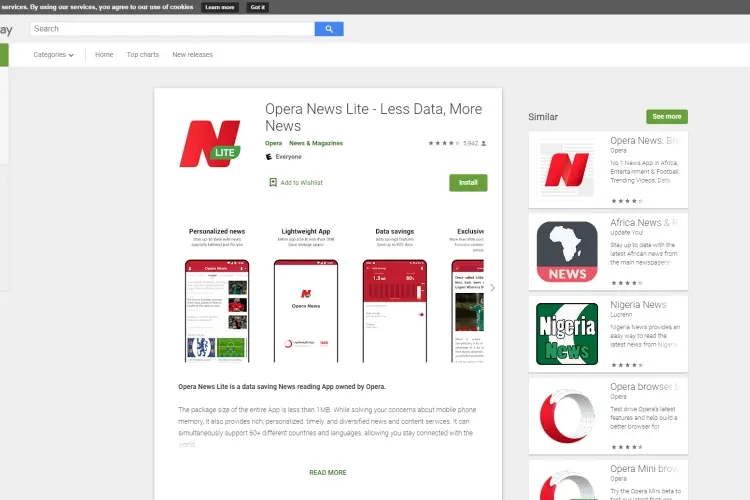 Being a lite version of the Opera Mini browser, it is fast and powerful. Opera News Lite works using a powerful AI news engine to deliver all kinds of news (Football, Business, Politics, etc.) around the world in real-time. It allows you to see personalized news or topics, depending on your location and preference. It also gives you access to original updates, with the help of its over 5,000 content writers.
While it consumes fewer data and less memory, its package size is 1 MB. Opera News Lite was released on Google Play Store in February 2023, and it presently has over 1M downloads.
Do you want something simple and fast at the same time? Via Browser is all you need. It has a high-speed, and it allows you to customize the page as you want. Minimal memory storage is assured based on its design.
Via Browser has a lot of functions, with Computer-Mode, Privacy Protect, Date saving, Add-ons, Night-Mode, Intelligence Picture Show, etc., being just a few. It is an ideal choice for geek users. It allows you to customize your page without any cost. This lite browser has a package size of 562kb, with over 5M downloads on Google Play Store, since it was released in August 2016.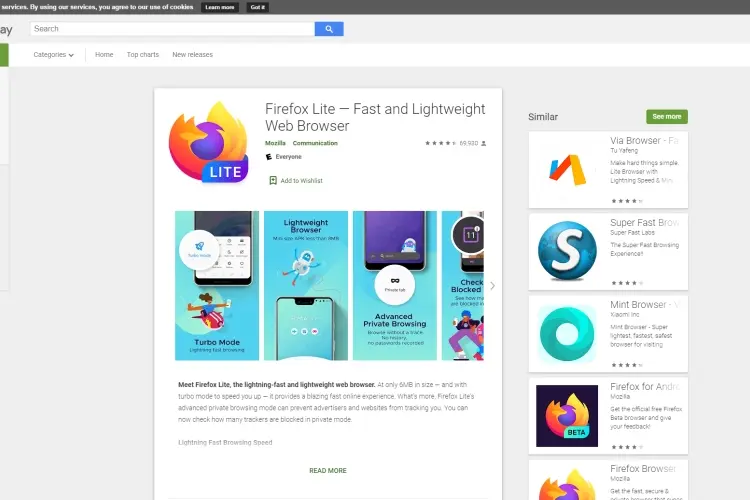 Also, one of Mozilla's fastest browser is Firefox Lite. It is a lightweight and secure browser that does so many things. It has a Turbo Mode that puts it at the edge of speed. A unique feature it has alongside is advanced private browsing. This feature allows you to browse without a trace, history, passwords, or cookies. No one is going to be able to track you when you use this lite browser's feature.
Firefox Lite has a package size of 6 MB. It takes up little space. It was released in December 2019 and currently has over 1M downloads on Play Store.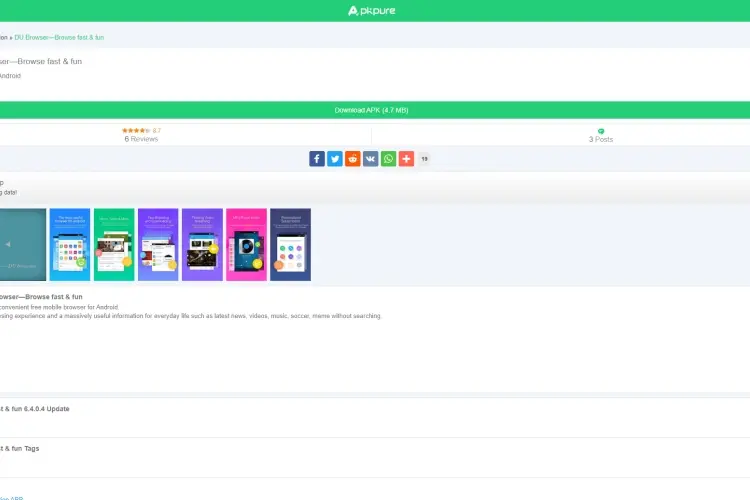 Another fantastic lite browser you will find for your Android device is DU Browser. It is fast, convenient, and straightforward to use. It is available for free as it gives an extraordinary browsing experience with its speed. Daily, it keeps you updated with info, such as music, videos, news, memes, etc.
Over 1M people make use of DU Browser. This number is a result of its performance and available features. For instance, it has Quick Navigation, Incognito Browsing Mode, Download Management, Data Save, etc. features for effectiveness. This lite browser has a package size of 4.7MB.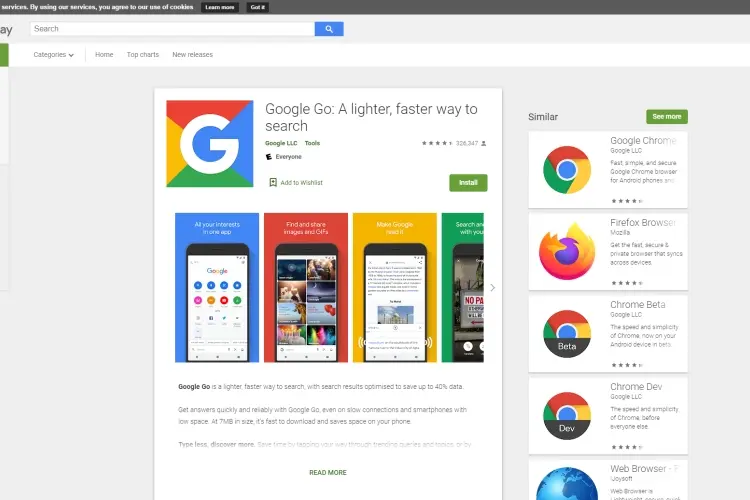 Google Go is a light browser that is fast and superb in performance. It allows you to search results optimized, helping you save 40% of data. It is the most reliable lite browser you can ever install on your Android device. This browser has several features to ensure maximum use. For instance, it has an "Images" or "GIFs" icon to create photo animations to add fun to chats. Another is the ability to switch between languages as you want.
Google Go has a size of 7.36MB, with over 100M downloads since it was released in April 2018.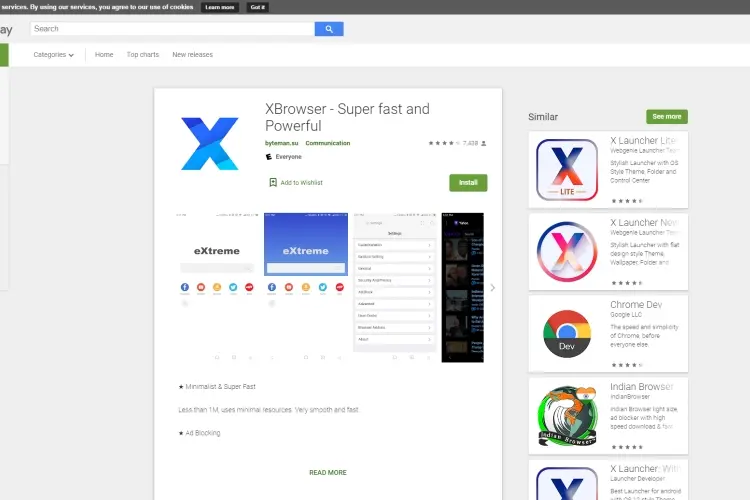 A lite browser that blocks pop-up ads from disturbing you, ensuring that you have a seamless browsing experience, is X Browser. About 80% of malicious ads are cleared permanently on this browser. In the same vein, it is clean, fast, and smart. There are a few things it does best - personalized customization to taste, powerful resource sniffing for media files, etc.
X Browser has a clean user-interface, and it saves power and data flow. Talk about security and privacy, and they are 100%.
Other features are the Gesture Function and Read Mode. It has over 1M downloads with 872kb package size.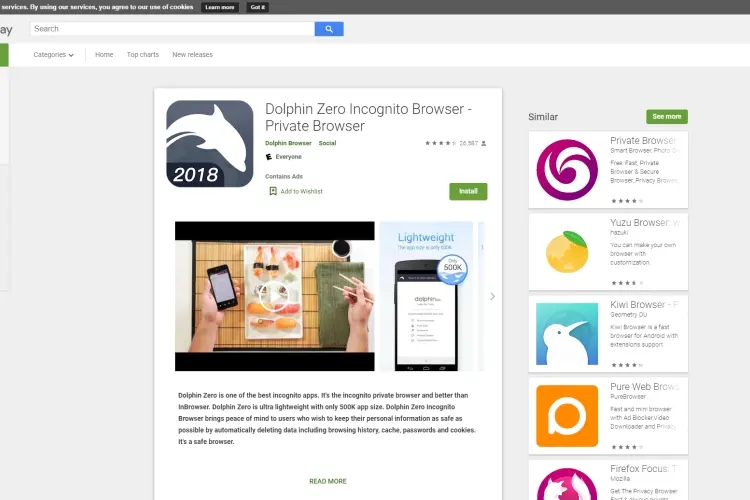 If there is one thing Dolphin Zero Lite Browser is known for, it has to be its incognito Mode. This platform allows you to browse privately and faster. It is a suitable choice for people who are particular about the safety of data. You could visit dating sites, medical sites with this lite browser. The ability to do this is in response to the "Do Not Track" feature. Other features include add-ons, bookmarks, personalized search, sonar, and themes.
Dolphin Zero browser provides full network access and test access to protected storage. With over 1M downloads on Play Store, it is one of the best mobile browsers. It has a 464kb size.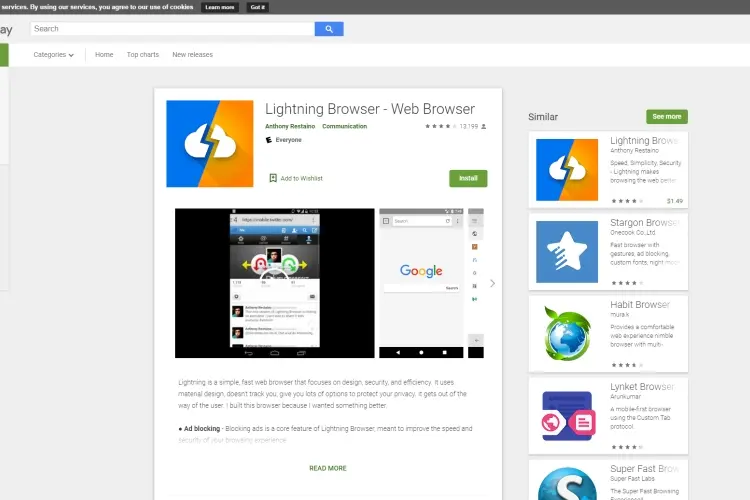 This lite browser is a combination of simplicity, speed, and security. It is perfect for improving the browsing experience. Lightning Web Browser uses material design and fantastic features to help you get what you want. As a part of the things the browser has to offer, Ad blocking is one of them. Also , the privacy of data without leaving a footprint is possible.
Lightning Web Browser has several modes, such as Dark Mode, Light Mode, Color Mode, Reading Mode, and Night Mode.
Other remarkable features of the browser include - Full Screen, Inverted Reading, etc. It has over a million downloads with a package size of 2.63MB.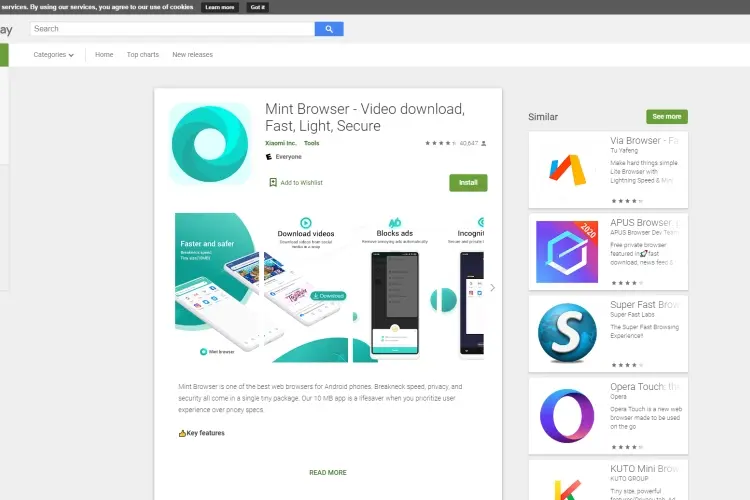 For maximum safety, Mint Browser has you all settled. It is super light, fast, and safe to use. This lite browser is easy to access on Android smartphones. It has several key features, which makes it highly considered. For instance, it blocks ads to aid a seamless browsing experience.
There is an incognito mode to ensure the privacy and safety of data. The Night Mode protects the eyes while using the browser in the dark. Additionally, it has a Data Saver mode to save mobile data. This lite browser is 8.71MB in size, with over 5M downloads on Google Play Store.
With Internet Browser App offering CM Browser, the browsing experience is about to become better. This lite browser provides topnotch privacy and safety of data. It is fast on all kinds of Android devices, such as tablets and smartphones. It works on different networks, including 3G and 4G LTE. Indeed, it allows you to surf the web with ease.
CM Browser has several features, such as Block Web Ads, Incognito Mode, Download Manager, Easy to Share, Multi-Tab Browsing, and so on. This lite browser was released in March 2023 and presently as over 10,000 downloads. It is available on Google Play Store.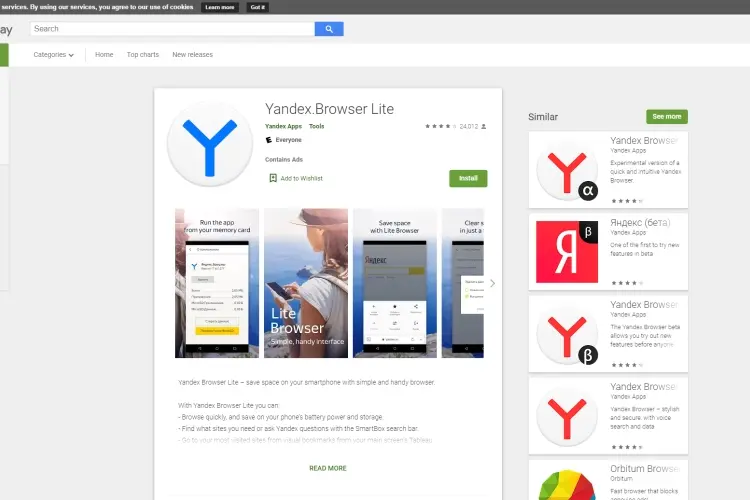 Are you very intentional about battery power? Yandex Browser Lite is the right choice of browser to use to surf the net without consuming much power. It is handy and straightforward.
This browser provides you with the latest stories, news, and videos depending on your preference. This is in association with Yandex Zen Technology.
Yandex Browser Lite is low on storage space as it clears cache and cookies automatically. Also, it has a SmartBox Search Bar to find websites or answers to questions. This lite browser has a size of 0.96MB, with over 5 million downloads on Play Store.
Conclusion
Lite Browsers vary on different levels, as seen from the review above. However, the ultimate goal of each of them is to be fast, lightweight, less-storage, and less-data consuming. As long as you have an Android device, say a tablet or smartphone, you can gain access to these browsers.
From the list, ensure you pick what offers what you want. You may decide to download more than one - as long as you have space, and it supports your device.