Before today, people used cue notes to deliver speeches until a Teleprompter was introduced. Although some people still make use of the former, it isn't as effective as the latter. A Teleprompter is used to project a speaker's script, and it may exist in different forms. It first existed as a device, but it has now been developed into a mobile application.

Teleprompter apps are used to record videos while delivering text on a screen. These applications are available on either Play Store, Apple Store, or both. The most exciting thing about these apps is that they are available for free. Therefore, if you are planning to know about them, here is a review of the 12 best free Teleprompter apps to use. One of them should correctly do what you want in the end.
Top 11 Teleprompter Apps to Use for Free
Below is a list of the best Teleprompter apps for free, and the kind of device that supports them, i.e., Android or iOS.
There is not so much difference between this app teleprompter and a real teleprompter, save the design. It is a simple application with a few fantastic features on it. These features enhance its optimum use for presentations.
On Simple Teleprompter, there is a unique button that appears on a white screen. The purpose of this button is to create a document - however, you are open to either importing a document from your device or copying and pasting contents of a document.
Also, the Delete, Save/Start, and Settings buttons aren't left out to make sure you get the best out of Simple Teleprompter. There is an additional feature that allows you to move at a different speed - the total Speed is 10. You can choose a speed level comfortable for you. It is available for download for free on Android devices.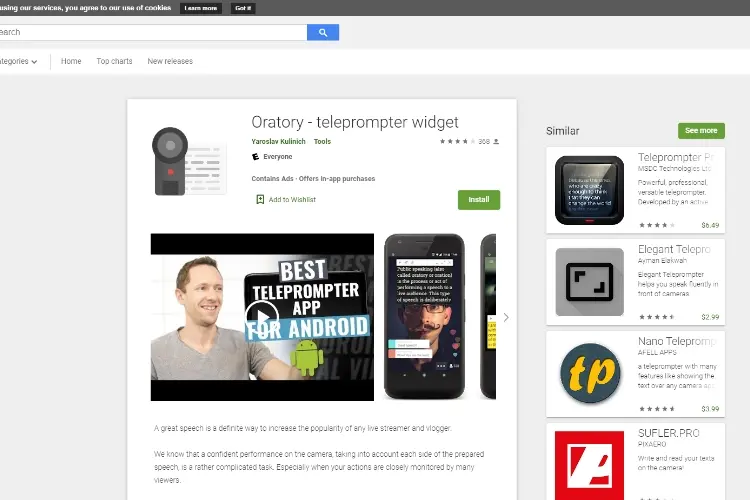 Another fantastic teleprompter app to use is Oratory. It combines creativity and excellent features to provide what is needed from a teleprompter. You can edit and highlight some parts of your script using this mobile app. Not only that, opacity, background, color as well as font color can be changed too. It is a simple app, but it runs effectively.
Oratory is available to be downloaded for free on Android devices. Also, you should know that it can be used for portrait and landscape texts. The position depends on how you want it to be. Overall, you can adjust Text size, Speed, and the Text area with this application. The only limitation is that: there is no inbuilt video recorder.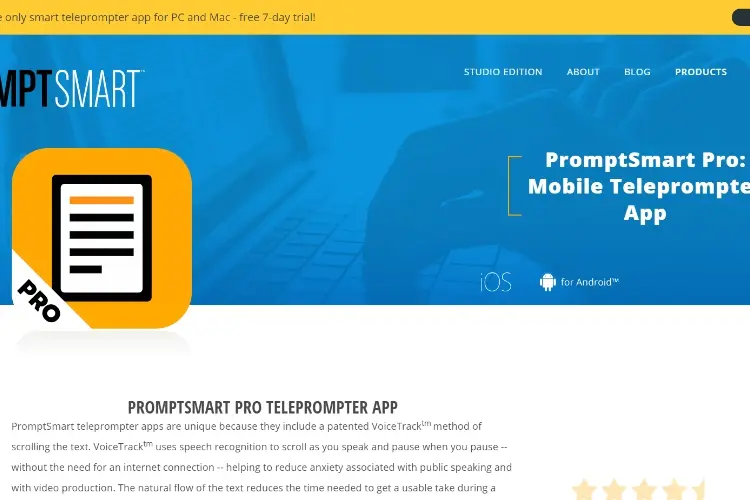 If you need a voice track in your script, PrompSmart Pro is an application that has you covered on that. It is a feature that has distinguished it from other teleprompter apps. If you enable this feature, you need to record your voice. The app runs an algorithm for voice recognition.
Interestingly, PromptSmart Pro can be used to adjust Speed, Text size, and Mirroring. There is a split-screen option that would come in handy when you want to multi-task.
Another lovely thing about the application is that the layout is exclusive while being kept at minimal. Also, scripts can either be imported from the internal storage of a device or the cloud. It is available for iOS and Android devices either for a free or paid subscription, i.e., $19.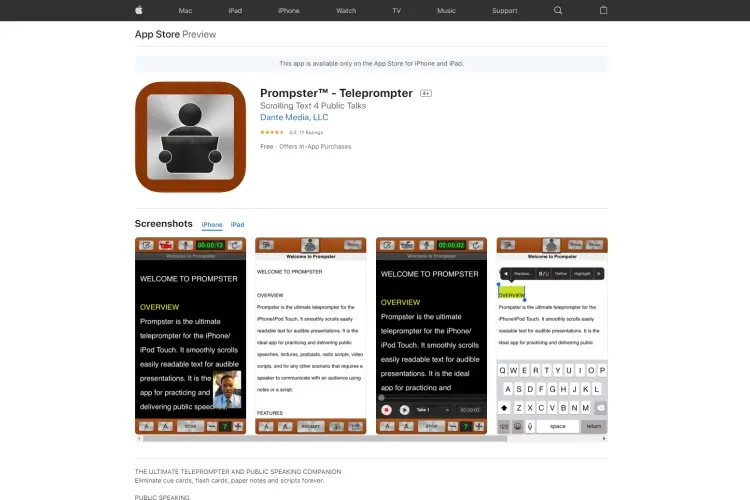 Are you a public speaker? Do you need a Teleprompter that would improve your presentation skills? Prompster could be an ideal choice of app to use. Its performance on Android as well as iOS devices is beyond extraordinary. It allows you to either import text files and multiple scripts at the same time or copy and edit scripts using the built-in editor.
Prompster teleprompter allows you to do various things, but most importantly, to change size and Speed. This would help you as a speaker to deliver speeches with ease. There are other few control buttons on the screen at the bottom for convenience.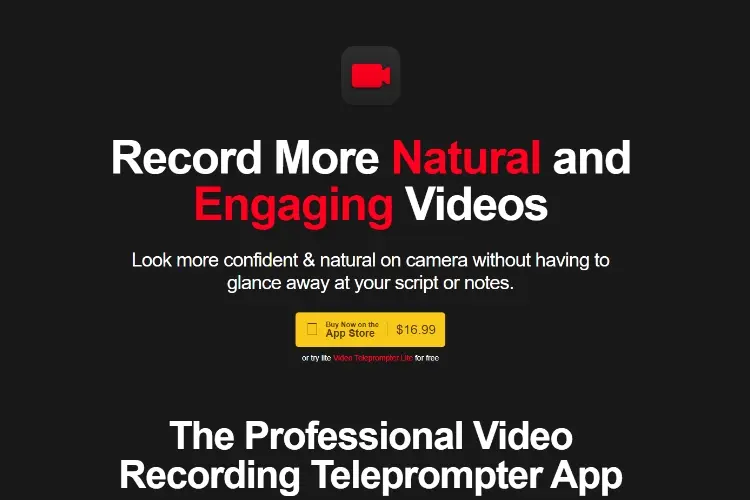 Do you want to record video presentations that are engaging and conversational? Video Teleprompter is an exciting choice of app to use. You would present more naturally, without being distracted from the glare. There are two types of this application - Video Teleprompter Lite, which is for free, and then the paid version, both on iOS and Android.
This application has robust features, but easy to use at the same time. It is often used to deliver professional videos. You can import scripts from internal storage as PDF, Word, or PowerPoint. On the screen, you can adjust text size and Speed. Also, there are a few controls to ensure optimum use, such as the countdown timer, keyboard control, etc.
On Android devices, Parrot Teleprompter is an easy-to-use application with all available features for convenience. You can read well and maintain eye contact act using this teleprompter with your audience. The app can turn a regular smartphone into a high-grade pro teleprompter. Interestingly, it can be downloaded and used for free.
Parrot Teleprompter can present imported scripts in either landscape or mirrored mode. It has functions that allows you to control Speed and text size to whatever level you desire. Also, the foreground and background can be customized with colors for visibility. Additionally, remote control can be used alongside this app - this is unlike most teleprompters.
Selvi is an old but intuitive teleprompter app to use. It allows you to present scripts to your audience with ease. This is about the list of features it has. Easily, you can import text scripts from internal storage or cloud on this application. The total number of words in the script is displayed at a corner of the screen.
Selvi has a good user-interface. The text size, Speed, and text area can be adjusted to desired levels. Also, it has an in-built video recorder for maximum use. This application is linked with social media platforms; hence, sharing videos is easy. It is available on the Android Play Store for free.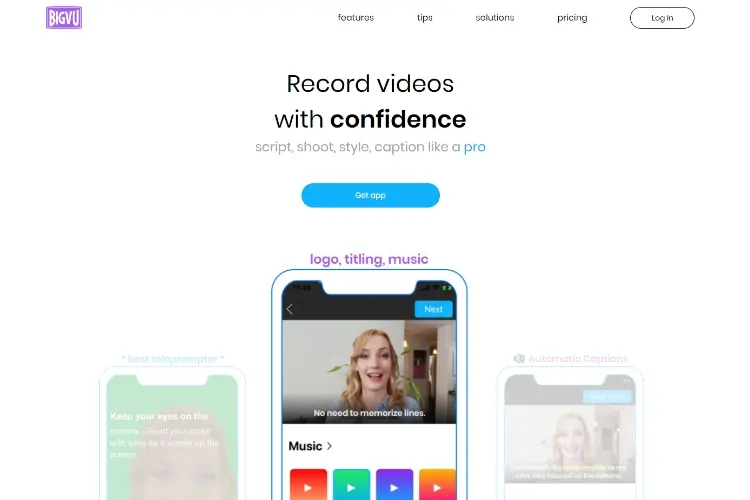 Do you feel less-confident about presenting a scripted video? BigVu is an ideal choice of a teleprompter to boost your confidence. This app allows you to record videos with style and add a caption like a professional. Currently, it is available for free on Android, iPhone, and iPad.
BigVu allows you to add background music to your video recording app. You can as well brand the video with your logo and titling - this is how incredible it is. Speed and Text Size can be adjusted too. More importantly, you can edit your video, especially if you have a green background; you could change it with just one tap.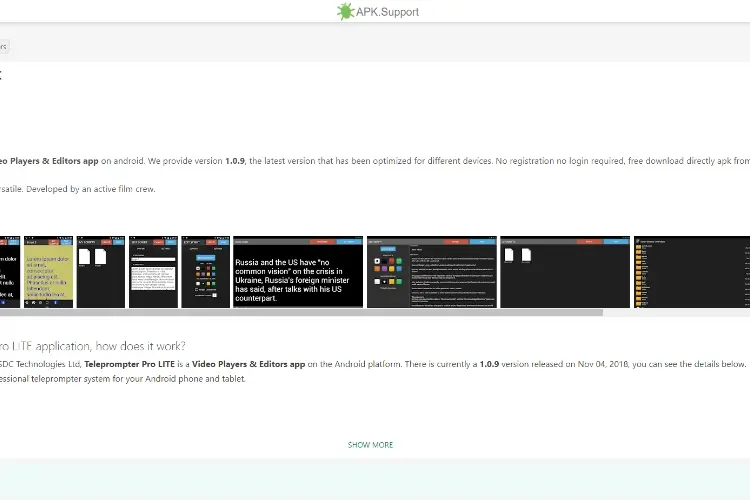 Need a teleprompter to test run for free? PromptSmart Lite is a suitable choice. This free version allows you to understand more about PromptSmart before purchasing it at an actual price. There are about 10 different font sizes on this application that you could choose from. You could also create any script on this app to run at a selected speed on this teleprompter.
PromptSmart Lite has an exclusive distinct app called a Voice Track. This app works hand-in-hand with the recorded text on the screen. Most importantly, a digital notecard feature to allow you to flip through your scripts/notes is available. It is available for free on Apple and Android Play Store.
Another useful teleprompter app that can be controlled with remote controllers while presenting is DV Prompter. It is a fantastic choice of app, available on Android devices for free. It has a wide range of features. For instance, it has a text size and font control features to enhance readability. In the same vein, it has a Text box where scripts can be imported or pasted into. This mobile application has a pleasant user interface, and its performance is outstanding.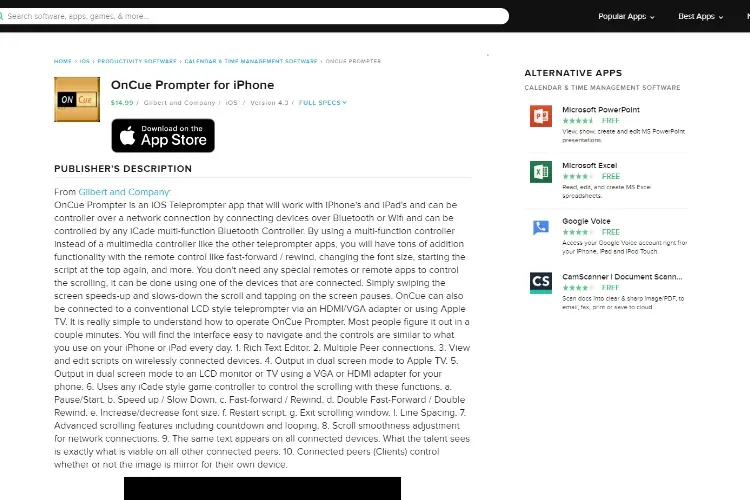 Finally, to gain access to all extra features of a standard teleprompter, OnCue Prompter is an option to reckon. This application is free and only available for Apple devices. It is straightforward to use due to its fast Speed and formatting options. For instance, the portrait and landscape modes enhance readability.
Also, OnCue Prompter allows you to enable external displays for all kinds of adapters - Apple TV, VGA, or HDMI. On this app, a free scroll can be activated while making presentations. Indeed, it is an excellent choice of app for upcoming presenters.
Conclusion
Teleprompters are one of the essential tools you need as a presenter. It would help you understand how to read texts and engage at the same time. For convenience, various teleprompter apps have been developed.
Above is a review of the best teleprompter for free. Other fantastic options include Pixaero Teleprompter, Nano Teleprompter, Capstone Teleprompter, and so on. Whether you need it for an official presentation or a social media video, what matters is that they all have great features and support several mobile devices. Choose a preferred type from the list and get started.