Taking a walk down the history lane, comics has its unique path, sequence, and tales for every culture there is.
Why Reading Comics Online in 2023?

Intellectuals have dated a prelude to the early days of a couple of paintings in France. Moving with the speed of light, halfway through the twentieth century, it is believed that comics had already made waves in some places like Japan, Belgium, and, most notably, the United States. Taking jealously, a part of the history book, the section relating to the story of how it came to be in Europe. It's usually pointed back to the cartoon drawings and strips of Rodolphe Töpffer, back in the 1830s. Let's give its history a full stop there.
There's hardly a category of people or race that isn't in love with comics and what it has to offer. Is it kids, young adults, your kinsfolk, or even a couple of aged ones who reminisce on some they've come across on one or two occasions? It cuts across all people, probably due to how the stories, plots, and ideas are being conveyed via funny pictures with the text enveloped in balloon-like shapes.
So if you're a diehard fan of comics or you do know someone who is, quickly beckon at the person, we'll wait! So no one will miss this excellent post because it is written and packaged for all.
Let's get you aware of what you're about to find down here. It's a well-packaged list of websites, free of course, where you can view and get to read your favorite comics and more. Since we have everyone at heart, we have earnestly tried to enlist sites you can at least see for free, although some might have a premium package.
We know how it feels, restricted by a lot of things, so getting your most loved comic becomes a tug of war. Yes, we know! But, we can't allow that to wax stronger. So, get ready for a sigh of relief!
Best Free Sites to Read Comics Online in 2023
So, without taking much of your time, see what we've got for you below:
This great online portal was founded some years ago, thirteen years to be factual, by the trio- Peter Jaffe, John Roberts, and David Steinberger. With this excellent website known as Comixology, you're sure to get a free ride to read at least seventy-five thousand comic publications. Plus, more than seven hundred free comics at your disposal. These comics are obtained from different publishers in the game. Publishers like;
1. BOOM
2. Marvel
3. IDW
4. Top Shelf
5. DC and many other whatnots.
Your device isn't a barrier at all! As you can get it on your mobile devices, tablet, and even your personal computer. To prove to you that you have nothing to worry about, as at now, ComiXology is owned by yours genuinely, Amazon. In easy to read text, Amazon company is the parent owner of Comixology, and its headquarters(HQ for short) is in New York.
Right at the top of the site, you find a search bar/box. Right there, you get to search for whatsoever comic you desire. Either by;
1. Genre
2. Creator
3. Publisher or,
4. Title.
Now, tell me, sincerely, isn't that good enough?
And if you're a newbie or don't know how to get your way around the so much comic-enriched site, calm down! It is a settled case, as you can easily follow through the bar immediately after the search bar.
No doubt, it's a well-known comics website. I tell you, you won't hesitate to put it on " saved pages." ComiXology doesn't entirely come free. It has got a premium package by the side. Still, you can get tons of comics without any service charge.
Learn more on how to use the site here:
https://m.youtube.com/watch?v=64F5cQJ8IaM
To get the latest gist on new releases and the likes, you can follow ComiXology on the following social media platforms:
1. Facebook
2. Tumblr
3. Twitter
Relax and download the app here on the play store.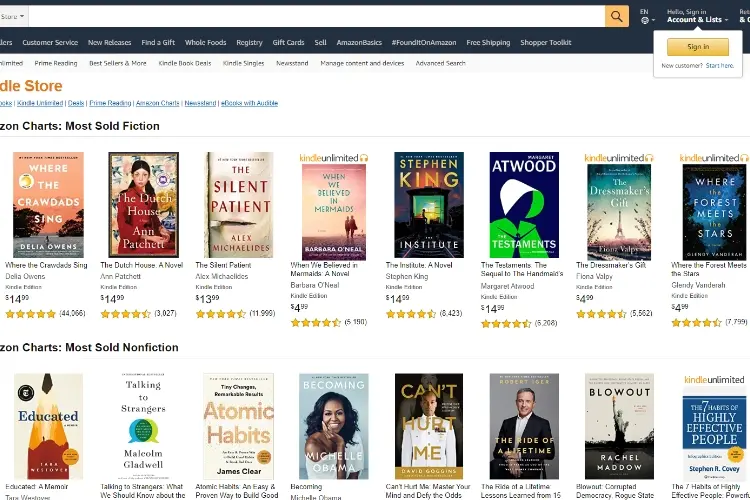 Arguably, Amazon Kindle Store, at the moment, is the most significant reading platform you can ever find on the internet. A vast array of books( eBooks) at your disposal. So that you know, comics are also readily available for all and sundry. But, all books are not labeled free! Looking at the brighter side, tons of exciting comics and manga are free, with no service charge attached. All you need do is to be very calm in your search for good content you'd like and are labeled free for all. However, if need be, or you seem interested in the premium ones, you could also get them for a few bucks.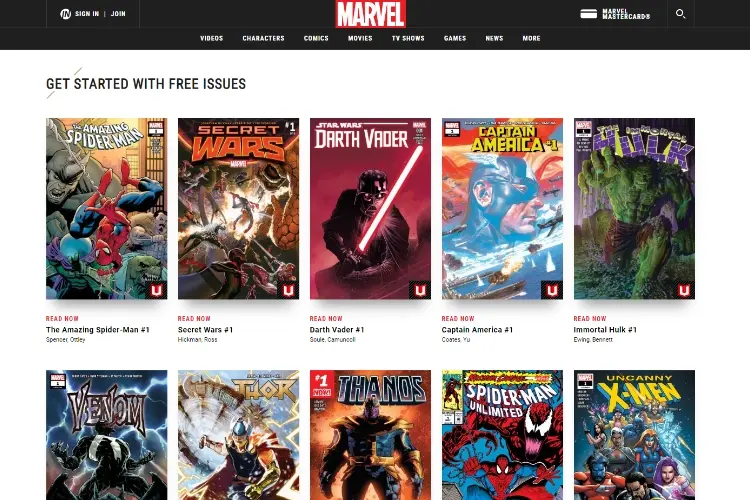 This list will lack completeness without enlisting Marvel Unlimited. From the teenager just getting into high school to other categories of people, there's hardly a person who doesn't reflect on at least one of Marvel's handiwork.
This great comics site was previously called Marvel Digital Comics Unlimited. It has been an online platform managed by yours indeed, Marvel Comics. The sole purpose has been to share prior comic releases through the webspace. About thirteen years ago, it was founded, and as of now, it has over twenty-seven thousand releases to its name.
See the exciting thing about Marvel Unlimited. Registration and subscription aren't made compulsory on the platform. So, not registering or subscribing doesn't stop you from checking out the free stuff. However, you may decide to step on the gas and move for the premium package. Let me tell you the gospel truth, if you're a diehard fan of Marvel, you might find it hard to exit the site.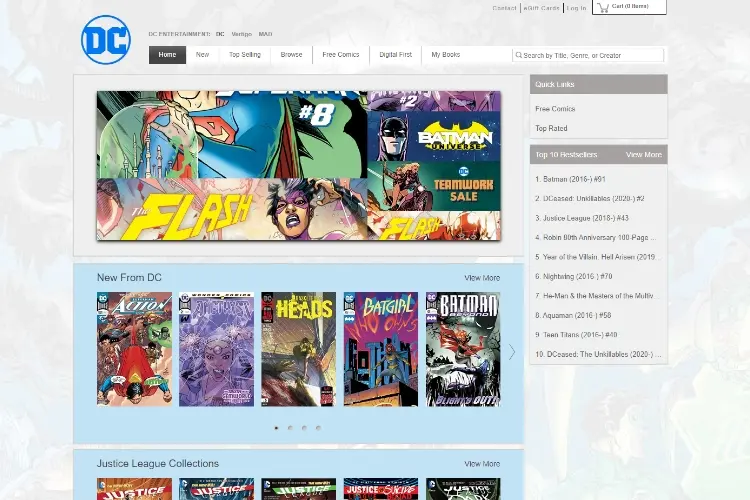 Contending with others closely, is the comics portal by yours genuinely, DC Comics. DC Comics has grown to be a worthy rival for Marvel. With READ DC, you are bound to get the right quantity of free releases. You can read them as they come with no form of service charge. The only thing is, you have to get a profile or an account for you to include free releases to your cart. This is done for you to be able to access it. You can opt-in for the premium package too. Whichever way you want it. However, you can make use of a ComiXology account here on Read DC.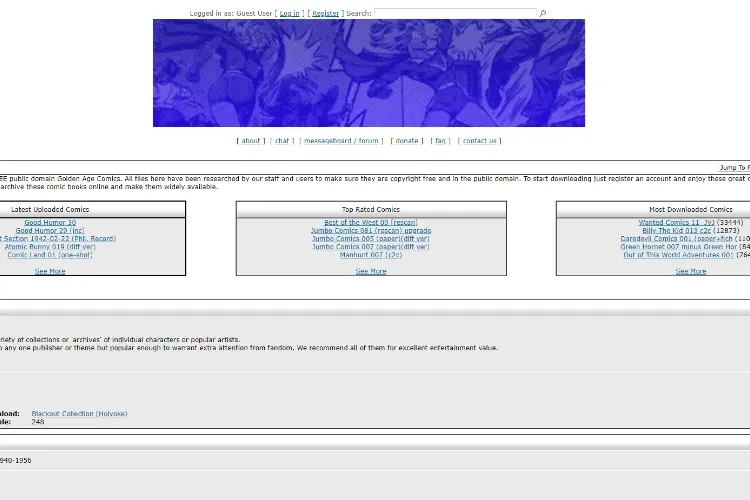 Talk of an online platform to check out amazing comic releases, then Digital Comic Museum should get a convenient spot among the likely options. Your most loved comic versions and other notable ones can be found right on this platform for free. So that you know, these highly-rated classics are given out at a costly rate in stores around and even auctions.
Registration is necessary on this platform if you want to have access to all these comic book releases. Registering isn't bad, looking at it from what you stand to gain. But, it will be right to hint you on this now, recent comics are not uploaded on the website instantly. That's the only obvious shortcoming.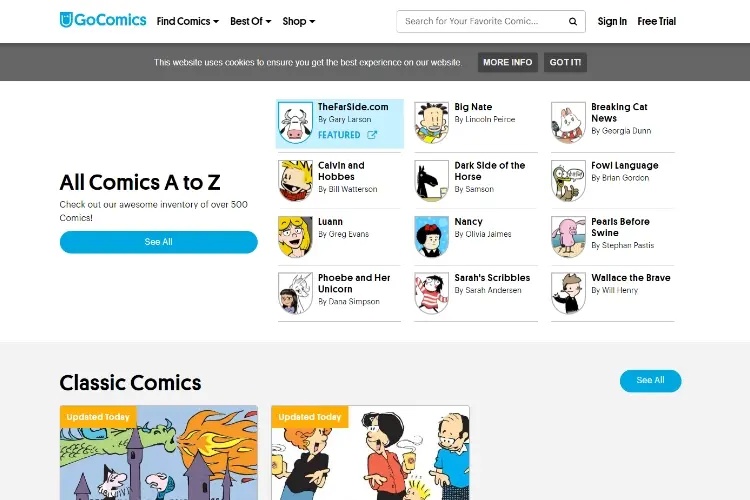 If, for one reason or the other, you are not all that drawn to the sites mentioned above, stay close as this might interest you. GoComics, certainly has its share of popularity. Plus, it deserves to be on this list. With this great website, you get a vast array of comics releases, and you sure get them free of charge. However, one little drawback is the ads. If you're patient enough, it'll pass. There's also a way of bypassing the ads. It's by moving for the paid version.
To give you more detail, for those having doubts about the services you'd enjoy in the premium version. You may opt-in for the full month free trial version package. But, honestly speaking, the lined out list of comics waiting for you is worth the time.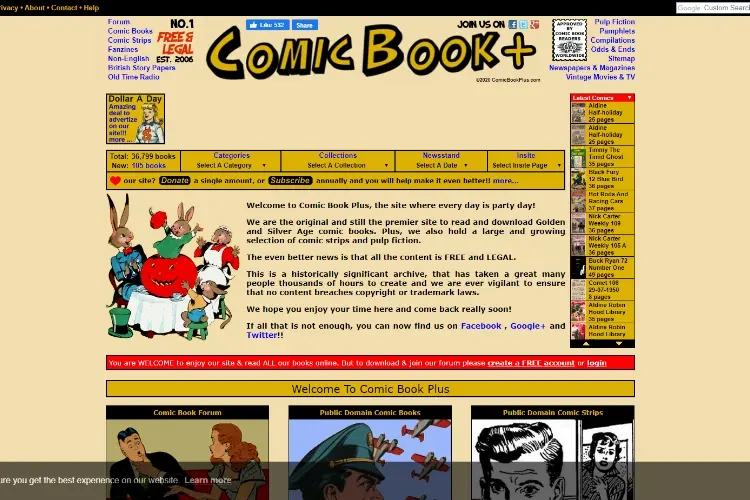 If you do not know, let it be known to you today that this great site, majors on a particular type of comics- the classics. The free releases are legit. Try access the page; you'd be welcomed by the funny outlook of the landing page. Plus, no opening of account or profile, registration, signups, or whatsoever that may be in that category. All you need do is to visit the site and navigate your way around their well-arranged goodies so you can choose your most preferred classics.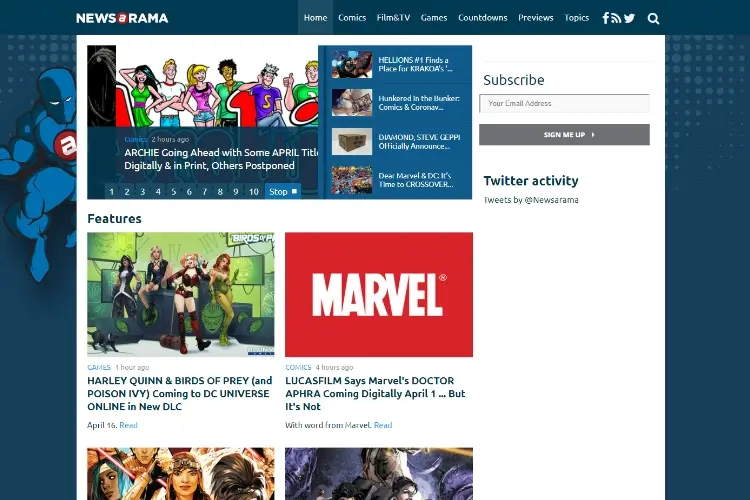 Wait a minute! Do we have lovers of sci-fi here? Please gather for a selfie. Stay attentive! This site is way beyond being called just a comics platform. As it gives free releases to its viewers now and then, it also churns out comics on sci-fi matters. Have you been looking for a place to read stuff on several theories and assumptions or inferences? Then your watch or search is over!
It gives both perfectly well. What do I mean? Free comics releases are available for all. Choose your most loved comic, and enjoy your reading. At the same time, it uploads fresh news on things related to Sci-fi. Now tell me, isn't it an excellent place to be?
Conclusion
There you have it! Best sites you can read comics online. With the list we've provided for you, kindly take your time to go through and explore to see which one does it for you.
By the way, we'd be right here, waiting for you to give us feedback on what you discover. Please be informed; the share button is free to use.