It is believed that when Adam was created, he was gifted with language. So, he could express his feelings and communicate. Lingual communication plays a significant role in our everyday life for various purposes. It is this communication that makes us inclined towards other languages. As we want to have greater exposure and learning. It is usually believed that learning another language is a gruesome task. But,in the tech-savvy era, you can find yourself saying hello to your next door Chinese neighbour or can easily get the lyrics of that latest Latin hit. If I name one app that has blessed my linguistic learning to another level. I would name Duolingo as the ultimate game-changer. As I think many of you will agree with me upon the magical influence of this giant. A few weeks ago, my mind forced me to research other possible sources of language learning other than Duolingo. Because of my perfection cravings (which of course is human nature). Had gone through long hours of hard work. This finally paid off in the form of some really great alternative sources in place of Duolingo. In case you get tired of the green bird and want to get the best language knowledge in the easiest possible way.
List of Best Duolingo Alternatives for Language Learning 2023
Here are some of the best alternatives which can help you in building up your language skills with fun and entertainment.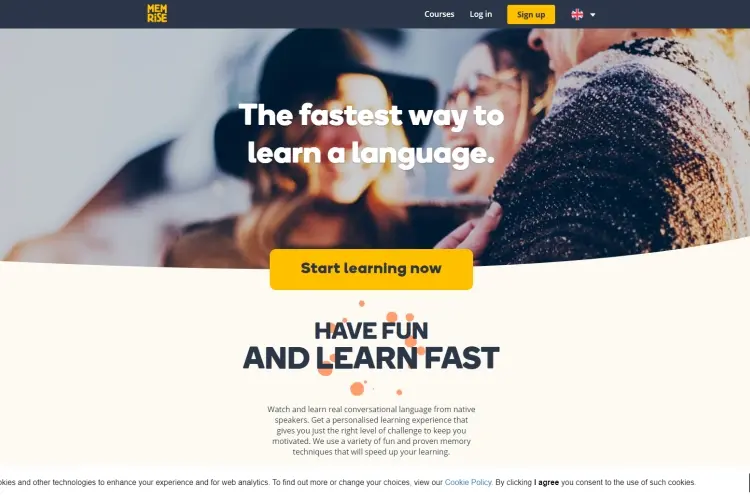 Hard time in remembering things? Don't worry! Memrise will make you learn a new language with nothing but playing with your memory. Providing with continuous repetition of words, using 'Repeated Flashcards'. Don't fret! The words you will be having a hard time to learn, will be noted by the app and will be shown after continuous intervals. So, repetition makes you learn them faster and easier. You have to do nothing but "Memorize" new words using ''Memrise ''. Better give it a try soon. The fun doesn't end here. All your desires of being like native speakers can be real. It is achieved by clicking on one of the thousands of the native speakers' videos. You can find them using their language in a way you aspire to learn. Also, memrise helps you in learning advanced vocabulary with three basic steps. "Remember, Repeat, Reconstruct". If you like memory games with perfect usage of language, it can be an amazing option for you. With a simple subscription you can avail its premium offline accessibility feature.
Here is the quick video
As a student, I always wanted to have a strict teacher over me. The one who could guide me and could take my continuous quizzes finding how well I was doing at highschool. Admit it, we all want one such strict teacher throughout our entire lives . The one who could give us some of the finest lessons. The one who takes the maximum output from us. This rule definitely works in learning the language of our choice. Babbel is that one strict teacher, who with a monthly premium teaches you 14 most used languages. It provides quizzes based on idiomatic learning, sentence usage in real life and vocabulary based upon your interests. Providing a real life situation, it takes learning one step ahead. Here, you can not only get words based upon your interests for fun but can learn to speak with natives like natives with guidance by natives. So, if you want to use your language skills in your personal and professional life , Babbel is a great option.
Here is the quick video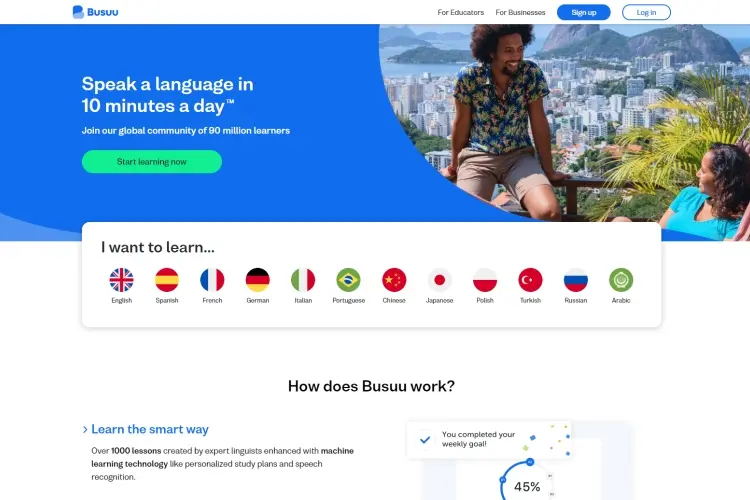 Are you off to Spain for a business trip or are being selected on a scholarship in France and sweating about the language barriers? No need to worry at all. Busuu is the right place for you. With interactive native speakers of its own personal Busuu community, you can get a deep exposure to the language of your choice. It helps you learn language from the speakers themselves. Wait! Did I tell you that this is not the only feature of Busuu? Besides having sessions with the native speakers, it provides articles from New York Times and The Economist. Here you can find out the correct use of the learnt vocabulary at specific times. With monthly premium, you can unlock the advanced courses of language learning. All this makes it a perfect deal to be finalized.
Here is the quick video
It's always fun playing a game, the rules of which are already cleared to you. Lingvist is one such language-learning game which makes you learn a new language according to your personal choice. Using word playcards, you can learn as many words as you want based on your own personal interest. You can learn new words from the already existing knowledge of the new language. It never forces you to learn more than you want but you can only learn the specific words you want based on your interests. Lingvist at times act as your personal trainer of certain words you love to learn. It makes them a permanent part of your memory. It helps through not only flashcards but with specific interest based sentences focusing on the words you have learnt. I consider lingvist that one friend of mine who makes my day the way I want.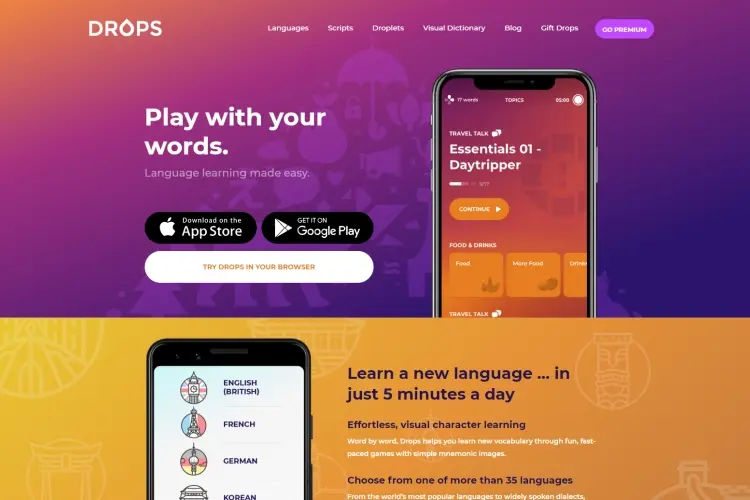 As a content writer, I often find myself meeting up the deadlines for submitting my work at the 11th hour. It has given me enough experience to be fast in limited time. Drops works on one such principle of meeting up the due time. It gives you five minutes to learn and test your language skills everyday out of your spare time among your busy schedule. You can sum it up as, "five minutes a day, keep your language slay". The app is unique in its way of learning that it gives an overall feel of a game than of a learning tool. Here you can drag and drop the word on its right meaning, which becomes more interesting everyday with some new words in hands. Having a time duration of five minutes and coming up with new words each day feels like a jackpot.
While going through the international best seller, "The Book Thief", I found it extremely difficult to read the exact German words. I had to google for getting a better understanding. But then, I found Readlang, which focuses on reading the other languages texts, other than speaking. The app with its unique property of reading texts provides sample texts and lessons. You can get the correct pronunciation of the vocabulary used according to the context. The app provides the perfect translation of the words you want to get translated. It works on your existing knowledge about the language and also gives you new words in textual context. where readers can find out their use in daily based writings and texts. So, with an assistant like Readlang now you can read the literature based in other languages with nothing but complete perfection.
My list would be incomplete if I don't include another entertaining and knowledge sharing platform where you move one step forward apart from all the traditional methods of language learning. Here you get a chance to chat with the native speakers of a specific language. You can learn the possible ways of using their language vocabulary in their own ways. It's more like a social bonding which makes it fun. As you can get a chance to be with a large number of native speakers of a specific language. As you can learn everyone's way of speaking making it easier for you to find out every single real life situation. The fun doesn't end here, but apart from learning their language, you can teach them yours too. This is one thing I loved the most). You can call your language tutor or companion or can send and receive voice messages from them in your practice hour. So, learning a new language is not difficult at all. All you need is to say a hello and congrats you are on the way to your ultimate goal.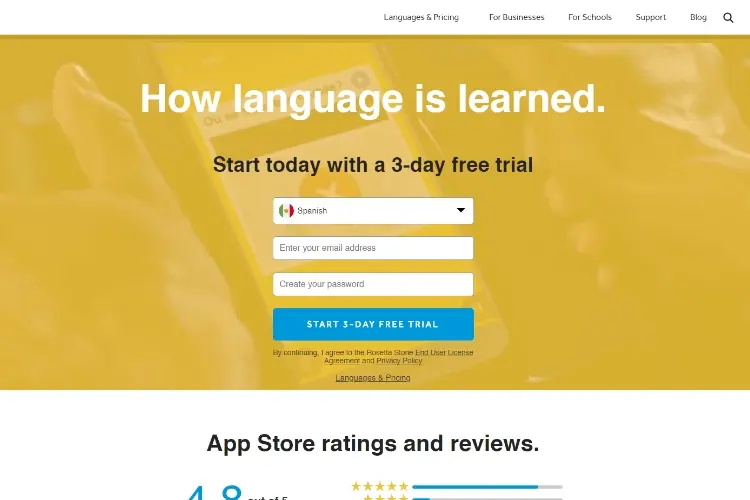 While I sum up my list, I will include that one app which found the basis of E-language learning. Yes, you got it right, the name's Rosetta Stone. It is based on a digitized-learning module. It has specialized speech engines and accent softwares. It enables you to get in depth of any of the languages you choose to learn in the most refined manner. The app focuses on perfect speaking. It provides you with a real-life surrounding in which you can use the language. The one you are learning based upon your learnt vocabulary. It provides the finest accent and digitized environment. Also providing you with offline lessons. It gives you a personal "Phrasebook" where you can find, note and use new words from your vocabulary. So, what are you waiting for? lay the first stone of your language journey over Rosetta stone.
These are the 8 best apps other than Duolingo. Using these apps for language learning can help you a lot in achieving your final goal. As for me, I highly think of them as lifesavers.