Being an avid gamer myself, I have always relished the opportunity to not only be able to play most of my favorite games on the go but also play on a large screen. This is why I have many of myfavorite games installed on my smartphone as well as PC and ready to play irrespective of the device I am working with. Just like I have games like Call of Duty (COD ), Grand Theft Auto ( GTA ), Assassins Creed, Pro Evolution soccer, Rayman Legends among others installed on my PC, I also have the mobile versions of each game. Of course, all the games mentioned above do not let me continue my progress directly, it is still pretty fun to play the same title on which every system I want.

Why Downloading clash of Clans for PC (WINDOWS 7/8/10)
There are however some games I play that do not have PC versions. Some of these games include Subway Surf , Clash of Clans , Clash Royale , and many more. Though these games do not have official PC versions, there are still ways to play these mobile games on your PC. The main reason why this is possible and reasonable to do is that most of them allow you to create an account so that you can continue your progress on any mobile device. The way you can play these games is by cloning your computer or PC to look like an android device. These involve installing certain software that is capable of doing exactly that. Here, I will walk you through how you can download clash of clans for PC on Windows 7,8, or 10.
Brief Description Of Clash Of Clans

Clash of Clan is an interesting online multiplayer strategy game. You have to create your Town and mine for resources to level up your Town Hall. Being a multiplayer game, you can purchase in-game items with real money in other to level up faster. There are currently 13 townhalls in the game and you can only upgrade your town hall after maxing out all the other buildings in your town. The strategy part of the game is arguably the best thing the game offers. You have HEROs which you can only unlock at certain Townhalls. There are currently 4 heroes in the game and these heroes usually determine whether you destroy your rival's or friend's Town when you attack him or her. The developers of the game, SuperCell, launched the game in 2012 iOS devices. After the huge popularity the game garnered, SuperCell developed and released the android version in 2013. It is a great game and all
NOTE : But of course you already know everything discussed above. The description above is for those who stumbled on this guide while surfing the internet so that they can learn more about the game.
The interesting thing about Clash of Clans is that it allows users to save their progress and ready to continue on any mobile device they have with them. Because of this, you can install and play clash of clans on your PC. Before going into the details of how you can install clash of clans on your PC, it would be best to mention, for the sake of people new to the game, some features that make Clash of Clan a truly amazing game.
NOTE : If you are someone like me who already know everything about the game and play it daily, you can skip to the guide here.
zxxFeatures of Clash of Clans
- You have to design your town and train troops for war based on the strategy you want to use. Your base must be designed to make it very difficult for others to decimate.
- You have to help raid other people's towns for resources and also help your clan out in the war. You can only join a clan to fight other clans if your town is strong enough
- The reward for winning a war is gold, elixir and dark elixir. Each resource has its use. Buildings upgrade is done by spending gold and elixirs. You use the dark elixir to upgrade your heroes.
- There are PVP battles you can play with your friends or people from other clans. There are also global competitions where you compete against other players from around the world.
There is no denying that strategy games look impressive on big screens and Clash of Clans is not an exception. Now let's dive into the two methods you can install clash of clans on your PC
DOWNLOAD Clash of Clans for PC
As stated earlier, Clash of clans is a game developed only for Smartphones and tablets. It is available on the Google Play Store for Android devices as well as the App Store for iOS devices. The PC version is not yet available and is not even going to be made any time soon. However, there is some computer software that makes your computer work like an android device so that you can use android apps on it. We will take a look at two of the best Android emulators for PC you can use.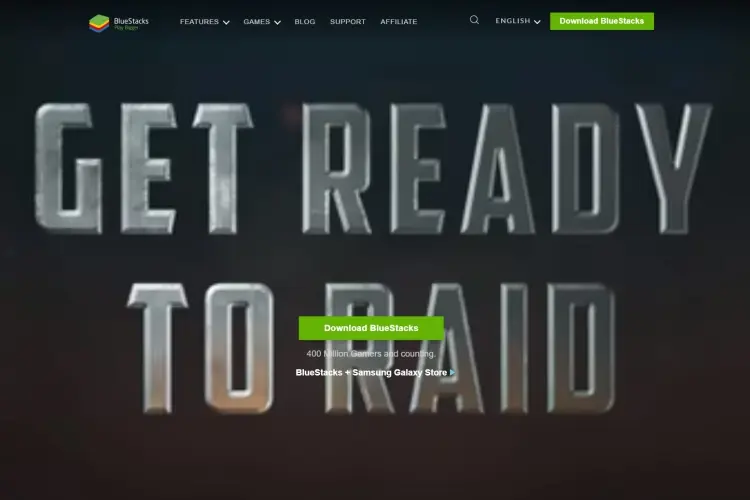 Bluestacks is one of the best android emulators on the internet today and is used by millions of people worldwide to run android apps on their computers. In fact, it says on the website that the emulator is 6x faster than any smartphone! Here are the steps to follow:
· The first thing you have to do is download the Bluestacks software on your PC. The best and risk-free way to do that is by visiting the official site of the software itself. You can find the link to the site above.
· Download Bluestacks and install it. You will receive a prompt asking you to log in using your Gmail account. This is required because it will allow you to access Google Play Store from your PC.
· Once you sign in your Gmail account, you should now be on the home page of the android emulator. The home page should look like an android device and you will find some preinstalled apps common to android devices on the screen. One of these apps is the Google Play store app
· Tap on the Google Play Store app to open it and search "Clash of Clans".
· The game will appear at the very top of the search results. Install it.
· Once the installation is complete, you need to navigate to the "My Apps" tab on the Bluestacks app. On the new tab, you will find the list of all your apps. Click on the icon of the newly installed Clash of Clans game.
NOTE : You need to have an internet connection for the game to work. This procedure can also be done by downloading the Clash of Clans app manually but it wastes much time. This is why we won't discuss it.
NOTE : Your system must meet the requirements of the app. This is because BlueStacks is very powerful software. You must have an updated graphics driver and your computer should be able to run HD graphics applications. It is also important the system has about 4 GB RAM for optimal operation. If your computer does not have any of this, you can try the second software below.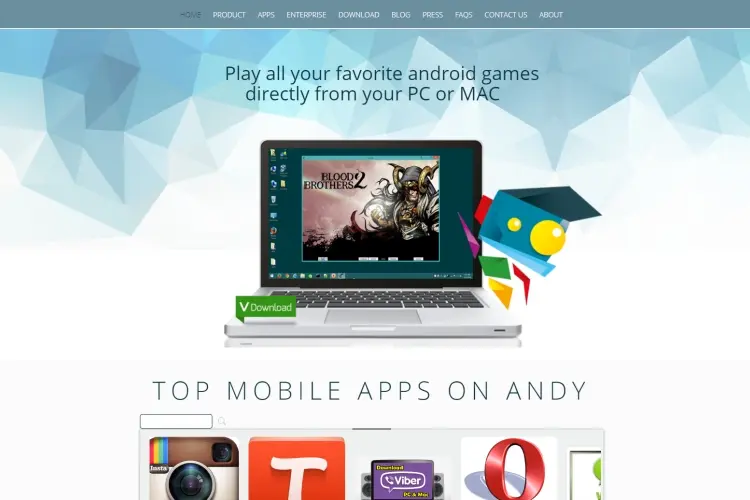 Andy OS another Android emulator software that bears huge similarities with Bluestacks. The only difference is that the system requirements of Andy are not as high as that of bluestacks. The only thing your computer needs to have is 3gb Ram. This does not mean it cannot work on systems that only have 2GB of Ram. Also, the size of Andy OS compared to Bluestacks is considerably different. Andy OS is also good for people who want a light sized Android emulator. The only issue you might face is the slow loading of the apps. Your computer should also have a good graphics card that can run applications that requires HD drivers. So how do you install Clash of Clans on your computer using Andy?
- Download Andy Software. Simply click "Download Link" above to download the software.
- Install the application once you have completed the download.
- Once you are done, you have to create an account on Andy before you can proceed to the Android emulator. After signing up, you have to log in to Google Play Store using an Email address. Search "Clash of Clans" once you are signed in to the Google Play Store.
- Locate "Clash of Clans" by SuperCell and download. The installation should start automatically. Once that is done, you can launch the game straight from the Google Play Store app.
NOTE : Andy has an app that you can use to remotely access your game. The app allows you to access the Andy app on your computer through which you can then access the control app. You can download the Remote control app for Andy HERE
Conclusion of Clash Of Clans CoC Download For Windows PC in 2023
Regardless of the app, you choose to use, they both allow you to play clash of clan on your windows computer. You can play the game using your mouse or by setting several keys of your keyboard to perform certain tasks. You can also use your fingers if you are using a touchscreen PC.